Dr. Kenny is a nationally renowned echo specialist and member of the Heart Valve Team at Freeman Hospital. She is also a cardiology adviser to the Football Association and performs heart screenings for several premiership and championship football clubs and elite athletes.
Your own personal cardiologist
All heart scans and screenings will be interpreted by Dr. Antoinette Kenny. Her expertise in echo means that she is able to spot heart abnormalities that many cardiologists might not see. By using HeartScan you will receive a personal service by one of the top cardiologists in the country.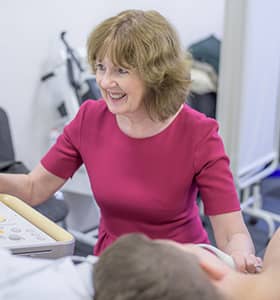 Dr. Kenny holds full accreditation with the British Society of Echocardiography.
Safe and comfortable clinic
Your heart scan or heart health check will take place in a private room in our comfortable clinic in Jesmond.
I would highly recommend this service and would have no hesitation in using it again.
Susan Shell,
Wallsend
HeartScan gave me a top quality medical investigation and information about my heart when I wanted it fast.  I found all staff there helpful, efficient and friendly.  Would recommend.
David B, age 59,
Carlisle
A planned operation was postponed until I had an Echo. I had to wait 6-8 weeks for an NHS echo but Heartscan arranged my Echo within 5 days allowing my surgery to be rescheduled. A thoroughly professional and reassuring service.
Jackie Hogg,
Author institution
The Echo was exceptionally thorough. I cannot recommend HeartScan, Antoinette and her team too highly.
Mike Blades,
North Shields